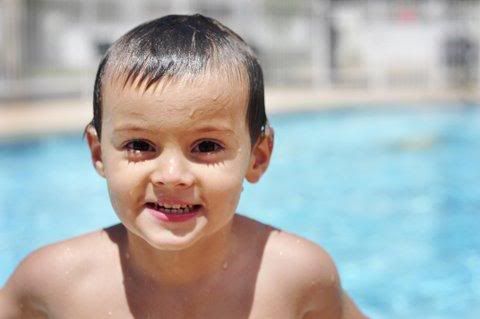 "Congratulations Daddy."
It was a great day.
That feeling continued for another 3 wonderful days. Husband & I shared this sacred secret & all was right in the world. But soon our happiness would be thwarted. I lost that sweet, tiny little baby just shortly later. Not nearly long enough to produce a live, breathing baby,
but nonetheless long enough to make me a mother.

After the miscarriage it took us a year to the month to conceive our precious
Son
. He didn't want to leave Heaven, but we're sure glad he did. Two years later we were again blessed with another healthy, beautiful baby. Dot has been a light in our home shining brightly & loved by all.
These little people bring so much joy with them.
Their innocence is endearing.
Their fresh faces are easy to love & their belly laughs melt my heart.
I love when Son gets sweaty & his little hairs precariously stick to his wet forehead. I love Dot's puppy breath against my neck in the morning as she whispers,
"Mama,"
nuzzling close. I love when my children tackle me to the ground with giggles full of mischief. I love how they make me want to be a better person
so I can be better for them
.
Fridays will be about them. What I can do to be a better Mommy for these two humans I helped create. To show I love them enough to do special things not just
for
them, but
with
them.
Thank you Son & Dot.
You are the best two gifts I could ever pray for.
We are so blessed have you make up our family & it's my prayer that everyday I can try to live up to the mighty Bestower's expectations.
Love you to the sky,
Mommy