The last time I visited the Renaissance Festival was the spring of 1994. My shorts were short, my Nike's were white & my hair was straight & parted in the middle. But the only thing that seemed to be different nearly 15 years later at this grand festival... was
me
. I guess that's the nostalgia of the Renaissance. It's a magical place stuck somewhere in time, unchanged, in which we can go & visit for a short time.

Husband & I thought it would be a fun & "out of the box" family experience to take the kids to this seasonal 30-acre village.
Well it was.
We chowed on bread bowls & cold brews, bought mythical crafts, laughed at the acrobat comedians, chatted with the village folk, got sprinkled with fairy dust, watched a jousting tournament & shouted for our favorite knight, pet day old lambs, rode the butterfly rides, the dragon slide & jumped on the ginormous trampoline apparatus. Phew...
I'm just tired writing it...
you can imagine my pregnant exhaustion after the entire hullabaloo.

So although a bit more cleavage may have been seen than I'd like (especially by Son) & some interesting folks came out of the woodwork in the later hours...
it was well worth it.

My only regret is not splurging on a
turkey leg. Son would have LOVED it.

The kids' favorite part -
Twig the Fairy
. She reaches in her pouch, hands them a star, glass stone & sprinkles their hands with fairy dust. It was magical.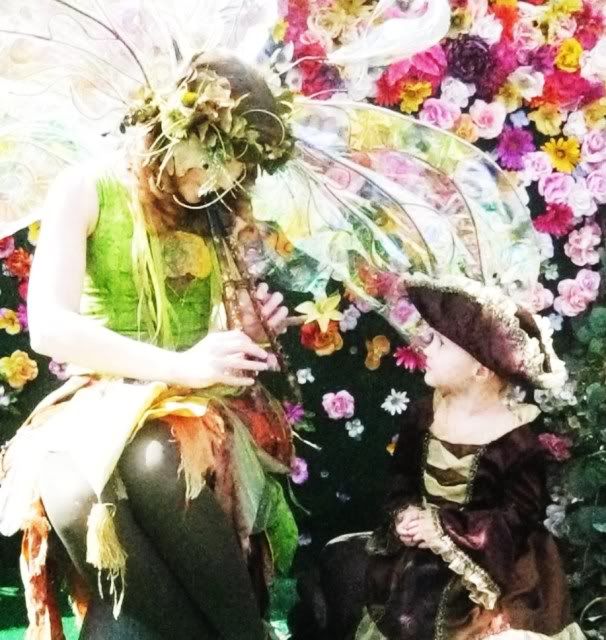 She mesmerized Dot by playing her flute.